January 30, 2009
Memorial Article on Wilson Patrick Hurley for West Point
Wilson Patrick Hurley was born April 11, 1924 in Tulsa, Oklahoma, the son of Patrick J. and Ruth Wilson Hurley. He spent his childhood in the Washington, D.C. area and in New Mexico, where he attended Los Alamos Ranch School. He was graduated from West Point in 1945 and entered the Army Air Corps. While a cadet he drew many cartoons for the Pointer and his ability and humor made him well-liked and a friend of all. Following graduation he served a thirty-month tour in the Philippines where he was assigned to air-sea rescue and grave registration duties, going in to crash sites to collect the bodies of fallen airmen. Flying throughout the Pacific on these missions as well as early experiences especially in New Mexico and in some of the country's great museums ignited his excitement about the beauty of the world and his initial quest to re-create it on canvas.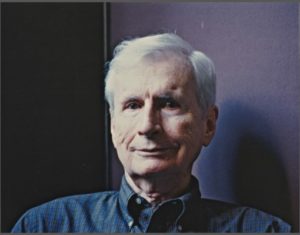 He resigned in 1949 and completed a law degree from George Washington University in 1951. He practiced law in Santa Fe and in Albuquerque for 12 years, with a brief interruption as an engineer with Sandia Corporation. He joined the New Mexico Air National Guard in 1952 and flew many different aircraft with them, ending with a tour in Viet Nam as a Forward Air Controller and Air Liaison Officer attached to the Republic of Korea Capital Division, 1968-69. He retired from the USAF Reserves as a Lt. Col. in 1971.
Wilson was interested in art from childhood, spending summers in the studios of a number of professional artists in the Santa Fe and Taos areas. Throughout his life he was a devoted "Sunday painter" and 1964 he closed his law practice to devote himself to painting full time. He had found an endeavor that never failed to excite and challenge him. He said that the work he did at West Point in Military Topography and Graphics (MT&G) was invaluable help for his pursuit of landscape painting, his major interest. He became a well-known painter especially of subjects in the Western United States. He worked in oil, and his distinctive style is easily recognized. He continued his interest in flying and space, was a member of the American Association of Aviation Artists and did some work for NASA when they had an active art program. Although he did not draw or paint while in Viet Nam, the visual memories remained with him when he returned, and over the years he painted a series of paintings that he later donated to the United States Air Force Museum at Wright-Patterson AFB, where they are on permanent display. He was an ardent designer and builder of model airplanes and built museum quality model ships, which he frequently used as subjects for paintings. He was an accomplished and entertaining public speaker with broad knowledge of history, art and art history, and science especially as it relates to art.
Wilson's work is part of many private, corporate and museum collections throughout the country. In the course of his career he produced over 1200 paintings. He was a generous, patient and caring teacher who was dedicated to helping many grateful painters find their own voice rather than follow his painting style. He was awarded many gold and silver medals in art competitions and was elected to the Oklahoma and Tulsa Halls of Fame, became an Oklahoma Treasure and a Notable New Mexican. His five-year commission to decorate a convention center at the National Cowboy Museum in Oklahoma City, consisting of five triptychs, each 16 feet high and spanning 50 feet (a total of 2880 square feet of canvas), utilized his skills as an engineer as well as an artist and is lauded throughout the art community.
Wilson married Rosalyn Roembke in 1969. Although it had been clear for several years that his always-robust health was diminishing, a diagnosis of his problems didn't come until December of 2007. He continued to paint until January of 2008. He passed away after a courageous struggle with ALS on Friday, August 29, 2008, and is buried in the National Cemetery in Santa Fe. His loving wife of 39 years, a daughter, four sons, twelve grandchildren, and many nieces and nephews survive him.
This memorial is too short to note all the honors he received or to convey a sense of this warm and generous man and his devotion to his family and his work. Wilson is sorely missed. He served his country proudly, and it is an honor to have been associated with him.
Robert Stetekluh and Rosalyn Hurley
[basically verbatim entry available at https://www.westpointaog.org/memorial-article?id=2830fa75-8d9f-4dc6-bed1-972a5004d97b