Video Interviews
"In His Own Words"
These interviews were conducted on 8/15/1996 at National Cowboy & Western Heritage Museum, Oklahoma City, OK. They were recorded during the final phase of installation of "Visions of the West" – five triptychs in the Special Events Center. These five paintings are one of the largest landscape installations in America. Video Interview with Wilson Hurley.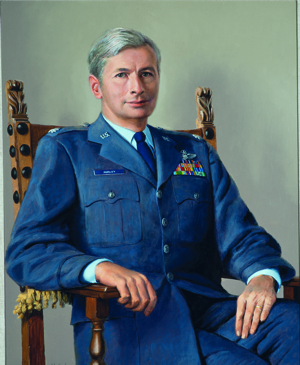 "In His Partner's Words"
Rosalyn Roembke a.k.a. Roz Hurley
Roz and Wilson forged a rare personal and professional partnership with complementary skills and a unifying interest in creating the "better paintings". She was adamant about using her maiden name for her paintings because she did not want the perception that she was hanging on Wilson's reputation. No-one who has seen her works could possibly make this error. Click Here to View.
"In His Daughter's Words"
Mary DeMova Hurley
The following video clips are from an interview with Mary DeMova Hurley, daughter of Wilson Hurley, in her Phoenix home on November 27, 2001. From a first-hand source they begin to paint a picture of the Hurley family and Wilson as an emerging artist. Click Here to View
Susan Halston McGarry
After receiving a Master's degree in Art History from the University of Minnesota, she was the editor for Southwest Art magazine for 18 years (1979-1988). She possess an impressive knowledge of the American art scene and has personal relationships with many well-known artists. View Video
Ann Brown (Nedra Matteucci Gallery)
Fine art dealer, Santa Fe, NM (representative of the Wilson Hurley Estate) View Video